Zunzi, a renowned political cartoonist from Hong Kong, has been forced to cease publication in Ming Pao after a 40-year tenure, following six public criticisms from government officials. This event has sparked social concern, seen as a further crushing of the remnants of freedom in Hong Kong. Ngan Shun-kau, a commentator, believes that the Hong Kong government, adhering to the Chinese Communist Party's intent, ordered the cessation of Zunzi's cartoons. He expresses astonishment that Xi Jinping, who controls 90 million Party members and several million troops, is afraid of a pen in Zunzi's hand. One man defeated the Party with a single pen — this is Zunzi's glory.
A symbol of resistance
Now 68 years old, Zunzi, whose real name is Wong Kei-kwan, is a well-known political cartoonist in Hong Kong. He is famous for his satirical cartoons criticizing current ills. His work, which has been published in Ming Pao for four decades, has accompanied several generations of Hong Kong people growing up. In response to media inquiries, Zunzi said that the decision to cease publication is part of today's "Hong Kong story." He acknowledged the constant changes in social conditions in his line of work and encouraged others by saying: "Even if the path is rugged, there is always a way forward."
Subscribe to our Newsletter!
Receive selected content straight into your inbox.
Zunzi's real 'crime': Hitting the nail on the head
In the past seven months, government officials have publicly criticized Zunzi's cartoons six times, accusing them of deviating from the truth, harboring ill intentions, pandering to the public, discriminating, misleading, being absurd, and deliberately blackening the government.
In response, commentator Fung Hei-kin wrote an article refuting the government's fallacies. He wrote: "In a civilized society, normal people know what a cartoon is. 'Exaggeration' is a reasonable satirical technique, and artists should have the freedom to unleash their imagination to achieve artistic effects. Measuring cartoons by the 'facts' of news standards is certainly wrong, but a good cartoon must also be true — true in spirit."
He bluntly said that Zunzi's real "crime" is not that his cartoons "do not conform to the facts," but that they are incisive and so truthful that the clowns can't stand it.
One man defeated the Communist Party with a single pen
Another commentator, Ngan Shun-kau, stated that the cessation of Zunzi's cartoons is a symbolic event, a watershed in the survival of freedom of the press in Hong Kong. "Before this, freedom of the press was hanging by a thread, and after this, it has died."
He said that for 40 years, Zunzi's cartoons have accompanied several generations of Hong Kong people, satirically pointing out societal problems with incisiveness, bringing a smile to faces and leaving a lasting impression. Zunzi's cartoons are beautiful scenery in this city with a tumultuous fate, and one of the reasons why Hong Kong people love Hong Kong.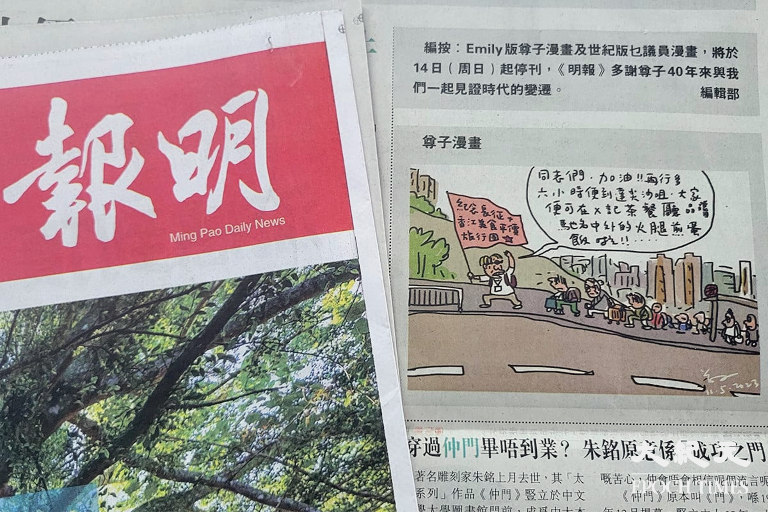 He continued to say: "Compared to political commentaries, political cartoons are more concise and powerful, attracting readers' attention. The extent to which society tolerates political cartoons reflects the degree of civilization in society. Democratic societies tolerate political cartoons because cartoons are the people's way of venting their anger and discontent when they perceive injustice, and it is good for society to have their voices heard. But dictators do not understand this."
Ngan Shun-kau believes that Ming Pao "cut off" Zunzi's cartoons under pressure from the government, which is of course in line with the Chinese Communist Party's intentions. He lamented: "When Zunzi has his pen in hand… his pen makes the Chinese Communist Party fearful and cowardly. One man defeated a party with a single pen. This is the disgrace of the Chinese Communist Party, and also Zunzi's glory."
He said that although Ming Pao has erased Zunzi's cartoons, it cannot erase the evils of the Chinese Communist Party, the darkness of the communist system, or the anger in the hearts of the people of Hong Kong. Zunzi's cartoons will not cease, they can be published through other channels, as long as "the pen is there, the heart is there, the spirit is there, the work will be there."
He lamented that today's Hong Kong is unrecognizable: the Legislative Council is in chaos, the National Security Law is in full swing, and judges and lawyers are excessively subservient — it is an apocalyptic scene. The Chinese Communist Party has ruined China, is also ruining Hong Kong, and ruining itself. But the people are still there, the world is still there.
Translated by ceci