Ever wondered about the history of picnics, or how to prepare for the perfect one? In this article, we'll take you through a brief history of this cherished pastime, explore different types, and offer a comprehensive checklist for your next outing.
A brief history
The idea of the picnic, interestingly enough, originates from the French term "pique-nique." These gatherings were initially associated with aristocrats, who indulged in grand hunting feasts, garden parties, or country banquets as a display of wealth and status. As the concept spread, the working class began to adopt the practice. Over time, gatherings transformed into a tradition celebrated by families and friends during anniversaries, holidays, and other special occasions.
Subscribe to our Newsletter!
Receive selected content straight into your inbox.
Such gatherings are not solely a European concept, though. Throughout history, people in diverse cultures such as Persia and China have also indulged in outdoor gatherings and feasts. Moreover, 19th-century painters like Cezanne, Monet, and Renoir contributed to the popular image of picnicking through their iconic portrayals of these outdoor activities.
The many faces of picnics
Today, the concept of a picnic takes on various forms for different people. Despite the variations, three elements remain consistent: beautiful outdoor settings, delicious food, and above all, enjoyable company. These outings could be romantic or casual, adventurous or themed, or specifically designed for families.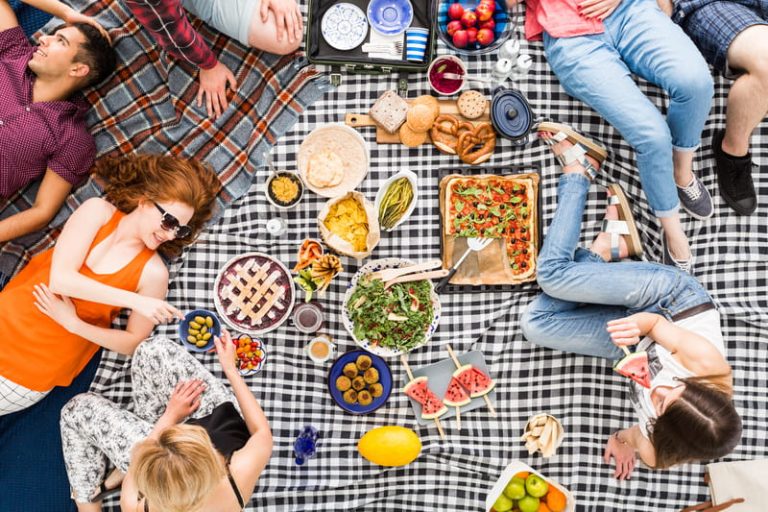 Your handy checklist
No two picnics are exactly the same, and each requires its unique preparation. To help with this, we've compiled a useful checklist to guide you through the process, ensuring that you're well-prepared for any surprises.
Choose the perfect spot
Choosing a picturesque, lush, and grassy location is essential for a delightful picnic. If you're planning a family outing, make sure there's plenty of space for children to play and some shelter in case of sudden rain. A spot with some shade, or the option to create shade with umbrellas, would also be beneficial.
Food selection
Food forms the core of every picnic. Opt for items that are easy to eat without cutlery like corn on the cob, fruit skewers, or chicken drumsticks. This not only simplifies eating, but also reduces the cleanup afterward.
The right blanket
The perfect blanket provides sufficient cushioning and is easy to clean, as spills and grass stains are inevitable.
Storage and covering for food
Considering you'll be outdoors, remember to pack food in containers with lids or use creative coverings like plastic wraps or mesh covers to keep bugs at bay.
Minimize your load
While the exact items to carry will vary depending on the type of picnic, the golden rule is to pack as lightly as possible. This makes repacking at the end of the day less of a chore. For example, a basket may be suitable for a nearby location, whereas a backpack-style bag with compartments is better for a hiking picnic.
Choose appropriate utensils
The type of utensils will also depend on the picnic type. While backyard gatherings might allow for fancier tableware, disposable utensils may be more practical for other occasions. Regardless of the type, don't forget essentials like corkscrews, bottle openers, knives, and cutting boards.
Clean-up essentials
Remember to pack plenty of napkins, paper towels, and trash bags to clean up afterward. Respecting nature and leaving the site as pristine as you found it is part of picnic etiquette.
Bring along entertainment
While picnics offer ample opportunity for conversation and relaxation, consider bringing along a few forms of entertainment. Board games, coloring books, or even a football can add a touch of fun and keep everyone engaged, especially when conversations wane.
Wrapping up: The perfect picnic
In conclusion, such outdoor gatherings have evolved throughout history from grand aristocratic affairs to cherished communal moments, and today they offer us a chance to bond and create memories with those we care about the most. Whether you're munching on a simple sandwich or indulging in a lavish feast, the true joy of a picnic lies in the heartwarming company, delicious food, and a picturesque environment.
With careful planning, you can improve your experience and ensure it goes as smoothly as possible. Take the time to research fun ideas, grilling tips, effective ways of transporting food, and strategies to keep your meals fresh and cool. Happy picnicking!