Shanghai-based Yang Fudong is a moving image artist whose works have a poetic, dreamlike feel that focuses on China's youth.
His work is influenced by directors like Federico Fellini, Jim Jarmusch, Jean Luc Godard, and Jia Zhangke (a director from the Sixth Generation Movement in Chinese cinema.)
Yang Fudong started his training by studying painting at the China Academy of Fine Arts in Hangzhou, then begun making films in the 1990s.
In 2015, an exhibition of his work titled Filmscapes came to Australia and New Zealand.
Throughout the exhibition, his film Seven Intellectuals in a Bamboo Forest was screened. The film was shot on black-and-white 35mm film over the course of five years and is made up of five parts. It is based on the 3rd-century fable Seven Sages of the Bamboo Grove, but works around themes of Chinese youth not quite knowing where they belong. The cast was made up of non-professional actors that were friends of the artists.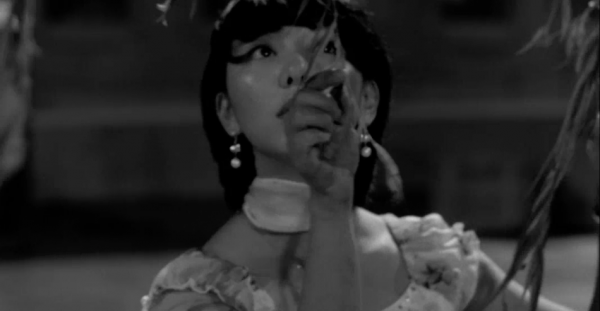 The exhibition also included one of Yang Fudong's well-known spatial video installations — The Fifth Night. This work explores a different way of using a camera in filmmaking — the storytelling in the installation is like a long scroll painting. The black and white film was shot with seven cameras rolling at the same time in one single take. There are seven youths in separate cameras that walk around the film set as we hear all the sounds of the set and we see the subjects roll from one frame to another.
Ulanda Blair, Assistant Curator from ACMI, gives her insight on The Fifth Night:
The Coloured Sky: New Women II is a five-channel video installation. The work departs from his usual black and white aesthetic and feels like a more intimate look at three young women who pose on a beach behind technicolor tinted glass. We explore the dreams and worries of young Chinese women.
Here is a behind the scenes video of the process of making The Coloured Sky: New Women II:
Yang Fudong's six-channel installation, East of Que Village was shot in an isolated village in Hebei, a province in northern China close to where Yang Fudong grew up.
He paid for some dogs that looked wild and homeless, and filmed them walking around the village scavenging for food. This installation, with its stark imagery, is said to show another side of China's social and economic growth, letting us think about those neglected by the changes.
Sarah Tutton, the senior curator from ACMI, discusses the artwork:
Yejiang/The Nightman Cometh is a black and white 35mm film transferred to HD video and displays ideas taken from ancient Chinese painting. It is filled with artistic and literary references.
Quoted in the press release, Yang Fudong says:
"In ancient Chinese painting, there has always been an emphasis on liu bai – what's left undrawn on the paper. For me, no matter whether I am making a video or a film, the same idea applies… The undrawn part in a work is there for audiences to engage with, using their imagination for viewing and interpretation."
Yang Fudong's work is beautiful to look at and interesting to explore. An aspect I quite enjoy is the silence in his work, which plays an important part in Eastern tradition where meaning is not spoken, but is understood by the heart.
Although his work can be explored online, the best way to view them is to immerse yourself in one of his installations at an exhibition if you get the chance.